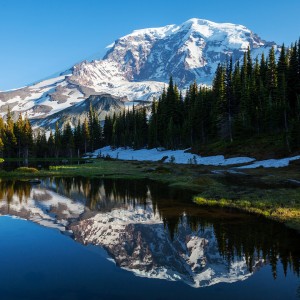 This year is the National Park Service Centennial and that means there is no better time to get out and explore Mt. Rainier! Whether you're looking for an easy day hike or an overnight exploration, this National Park has something for you.
Day Hikes
Mt. Rainier is 260 breathtaking miles of forests, lakes and streams. For an easy day hike, stick to the Longmire, Paradise, Ohanapecosh, Sunrise, and Carbon/Mowich areas of the park. Be sure to plot your route ahead of time as paths can vary between 4 hours to 20 minutes to complete.
For the best views we suggest the following trails:
Bench and Snow Lake Trails – Here you will find two lakes on one path!
Dedge Peak via Sourdough Ridge Trail – A gentle climb through beautiful meadows and grassy areas
Rampart Ridge Trail – A steep hike with ridge top vistas

Weekend Trip
To really make the most of your trip to Mt. Rainier, consider making it a camping trip so you can take your time on the trails. Just take note that overnight stays do require a permit.
Additionally, you have a few options:
– Venture out on a climb
If you're planning a traditional hike, we suggest the following trails:
Twisp Path – 10 miles of beautiful wildflowers and views of the park
Upper Big Quilcene – 10.6 miles that encompasses panoramic views of the Olympics.
Greenwater Lake – The 14 miles trail offers camping, fishing and a lake to cool off
How will you celebrate the National Park Service Centennial? Share your photos using #NPS100 and tag @bestwestern.