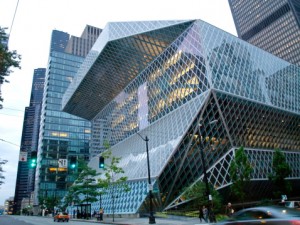 Northwest natives are known book lovers. So it's no surprise that Seattle would have one of the most strikingly beautiful libraries in the country. The building is made of steel and glass, with sharp lines and extreme angles on every wall. From inside the building, lights pours into the geometric walls from every direction, offering 360-degree views of the gorgeous downtown. Especially during these summer months, the natural light pouring in from the blue skies above makes this venue especially lovely.
The Seattle Public Library was originally built back in 1890 with a much different façade of bricks and wood. Today, the library is home to over 2.4 million items with a yearly budget of over $50 million. The public library system is made of about 30 locations throughout the city, keeping you within arm's reach of a good story at all times.
So kick back, crack open a classic, and read while you soak up the sun and the beauty of the library itself. This architectural masterpiece will leave you awestruck on the outside and the books will keep you enthralled within.