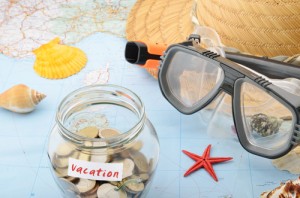 We did it! We successfully traveled I-5, from San Francisco to Seattle, for 9 days on $200 a day. In fact, we came in about $200 under budget for the entire trip.
How did we do it? Here's a rundown of tips and tricks we used to pinch pennies along the road.
1) Leave the SUV at home. We cruised I-5 in an economy compact car (Ford Focus) that got 35 miles to the gallon. We spent $88 on gas. If we had taken an SUV, we would have spent about $150 on gas.
2) Lighten your load. We packed light–bringing only a few changes of clothes and doing wash along the way. Carrying 100 pounds in the trunk reduces a typical car's fuel efficiency by 1 to 2 percent. If you do have cargo to haul, use the trunk instead of a roof rack or carrier, as using these can decrease mileage by as much as 5 percent.
3) Water only. No iced tea, no apple juice, no beers, no way! At restaurants we were allowed to order water only (with a few exceptions).
4) Split entrées. We always started by ordering one entree for two adults and one children's meal for two kids. If we ate everything and were still hungry, we ordered more. We never wasted food.
5) Carry refillable water bottles. A family of four can easily spend $20 a day buying water in plastic bottles. We purchased eco-friendly Klean Kanteens, which don't leach chemicals, toxins, or funky flavors. We refilled them at hotels, restaurants, and public restrooms.
6) Find free and cheap fun. We visited Whiskeytown Lake National Recreation Area outside Redding, Calif., on Trails Day, when park admission is waived throughout the country. We went to the Oregon Zoo in Portland on the second Tuesday of the month when admission is only $2. Convention and Visitor Bureau Web sites are great resources for inexpensive activities and events.
7) Go for hotel freebies. Bed down at places that offer great value: free breakfast, Wi-Fi, and parking. For example, you'll receive free Internet access at all Best Western Hotels.
8) Dive into the hotel pool. Take a break from the amusement parks and shopping malls, and hang out at the pool, where you don't have to pay admission. Ninety percent of Best Western properties have swimming pools.
9) Load your iPhone with apps. We used CheapGas to pinpoint the lowest priced gas stations and AAA Discounts to alert us of money-saving opportunities. You can download both applications for free on iTunes.