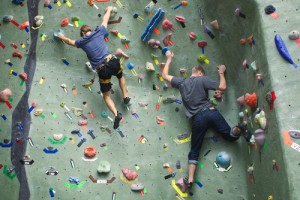 If you're spending more than a day or two of your family vacation in my hometown of Portland, there's a good chance that at least one day will be rained out. So, I guess that means you'll be playing a lot of card games and distracting the kids with a marathon of Disney movies, right? Wrong. Portlanders have kids too and they've built a pretty great rainy day plan. Here are a few of the best options for keeping the family dry AND entertained.
OMSI – Growing up in Portland, I can recall at least a dozen field trips and rainy Saturdays in the Oregon Museum of Science and Industry. This kid-friendly museum has it all: dinosaurs, space, panoramic movie screens, food, fascinating exhibits, and more! With an always-changing set of very interactive exhibits, kids and adults learn about complex scientific topics with a fun, hands-on twist.
Indoor Climbing Centers – Rainy days have a way of making kids climb the walls. Why not embrace it? Oregon has a number of high quality indoor climbing facilities with routes of all difficulties. The Portland Rock Gym and The Circuit are two gyms located conveniently in Downtown Portland. If you're in Beaverton, stop by the recently expanded Stoneworks. Closer to Lake Oswego? Stop by Clubsport, in addition to the massive climbing gym, this fitness center also offers basketball, racquetball, and indoor pools.
Underground, Glow-in-the-Dark, 3D, Pirate-themed, Mini Golf – Did you catch all of that? When people say, "Keep Portland Weird", Glowing Greens Mini Golf is the sort of wonderful thing they are talking about. This one-of-a-kind experience puts mini-golfers of all ages on a level playing field. They supply 3D glasses and the impressive neon artwork makes it hard to keep your eye on the ball. Your kids will never forget this rainy day activity. (pro-tip: birthdays golf for free)
For more great ideas, visit www.BestWesternOregon.com