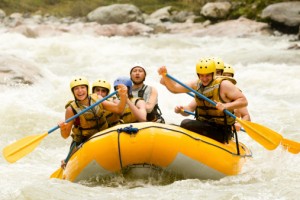 Everyone complains about the rain during the winter. But those same people seem to flock to the rivers and lakes in the summer months, forgetting the dreary seasons that made these beautiful waters possible. As the rain rolls down the mountains, accompanied by copious snow runoff, the rivers and lakes of the Pacific Northwest become a major destination for water sport adventurers. Dig up your swim trunks and sunscreen, because these cool activities are not to be missed.
Rafting
Oregon and Washington are replete with long, beautiful rivers that flow from the many mountain ranges all the way down to the ocean. For most of these rivers, waters flow year round, but the rapids and obstacles can change from month to month and year to year. In Washington, the Wenatchee River offers rafters of all levels an opportunity to enjoy a few rapids.
Wind Surfing
The Columbia River Gorge is known as one of the world's premier wind surfing destinations. The rock walls of the gorge tower up to 4,000 feet above the water, channeling the wind at high velocities on the water. Besides the great windsurfing, The Columbia River Gorge offers lots of other outdoor options including world class hiking, skiing and mountain biking.