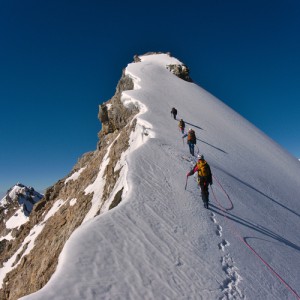 You know how it is. You go to work Monday through Friday, on the weekend you go out on the town and eat too much and drink too much with friends. Then you rinse and repeat. There's gotta be more to life. Well, in 2001 my buddy Chris and I decided we wanted a change. We bought a guide book on New Hampshire mountains and traveled up north in Chris' old Explorer. In New Hampshire we climbed Mount Monadnockfrom bottom to top. It was our first mountain climb. We felt like kings. The feeling of tangible accomplishment was exhilarating and it hooked us completely. After that we went on to climb dozens of mountains together. Climbing mountains is an exhilarating privilege. And sitting at the summit is a rare opportunity to sit on what I call God's front porch.
In the mood for a climbing adventure? Why not start small and dream big. Below is a whole list of climbing adventures. Some people spend their entire lives working to achieve just one of them. Bergheil!
Climbing Challenges
High Pointers – hike to the highest point in each of fifty US states
Seven Summits – climbing the highest mountain on all 7 continents
Eight-thousanders – climbing the fourteen mountains in the world that are 8000+ meters
Seven Second Summits – climbing the second highest mountain on all 7 continents
Volcanic Seven Summits – climbing the highest volcano on all 7 continents
Three Poles Challenge – climbing Everest and reaching the north pole and south pole
Explorers Grand Slam – climbing 7 Summits and reaching north pole and south pole
Getting-Started Advice
Just getting started with mountaineering? Here are some of my favorite guide services. They'll walk you through how to train and get you ready to climb your first mountain. Once you tackle a few you can start envisioning tackling one of the gnarly adventures above.
Climbing Guide Services
In Seattle – Bart Paull
In Seattle – RMI
In Wyoming – Jackson Hole Mountain Guides – ask for Evan
In Wyoming – Exum ask for Jim Williams
In Alaska – Alaska Mountaineering School – ask for Colby
Worldwide – Alpine Ascents – ask for Gordon
Worldwide – REI Adventures
Got another climbing adventure in mind? Please share your additions in the comments!