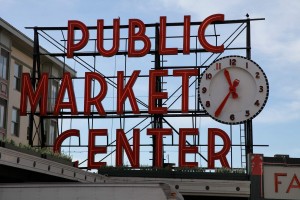 Operating for over 100 years is Seattle's famous Pike Place Market. When I heard they were starting renovations in April of 2009 in order to preserve the history, I figured I had to visit, surprised that I hadn't been there already. The Market consists of nine acres of historic buildings all housing an eclectic array of meat purveyors, bakers, farmers, fishmongers, artists and musicians. My kind of place.
Pike Place Market is internationally recognized as America's premier farmers' market and is home to more than 200 businesses; approximately 100 farmers who rent table space; and 240 street performers and musicians. The Market is one of Washington's most visited destinations attracting 10 million visitors a year. A variety of seasonal events occur at the Market – summer events being the most popular. This summer, the Market will host Farm Days on the Cobblestones, where farmers choose and sell their freshest summer berries, greens and herbs alongside cooking demos with summer ingredients.
You can't mention Pike Place Market without mentioning the world famous Pike Place Fish Market. Committed to providing the best service in the world, this crew of fishmongers throwing fish is really more of an "experience" than a shopping trip. Its beginnings are outlined on their website where they reiterate over and over that it's the experience and customer service that keep people coming back. I don't know that there's a company committed to customers more than Pike Place Fish Market is. It's a must see.
The Market is truly an overwhelming experience for the senses. The sights, sounds and smells are unlike anything else. Be sure to give yourself a whole day as it's easy to get "lost" in all the Market has to offer.
For more information, visit Pike Place Market's website.