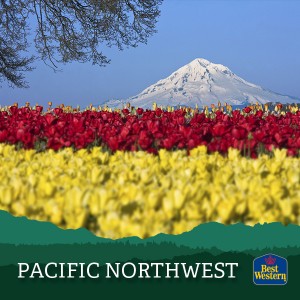 Woodburn is a charming little city, located a few miles off the shores of the Willamette River and Interstate 5. It doesn't draw much attention from tourists or even from nearby Portlanders, who know the city mostly for the popular outlet mall that faces the interstate. But there is one thing that draws the attention of the entire state and even much of the country, The Wooden Shoe Tulip Farm and its annual Tulip Festival.
Every spring, The Wooden Shoe Tulip Farm hosts one of the best flower festivals in the country. More than 40 acres of vibrant tulips, organized obsessively by color and type cascade over the rolling hills. If you are lucky enough to tour the festival on a clear day, you'll be struck with the panoramic view of Mt Hood over the colorful fields.
Though is one of the state's most beautiful seasons for Oregon, rain showers will roll through every couple of days. These storms help ensure the growth of the tulips you will enjoy. It's a good idea to pack boots or just an extra pair of shoes for the tulip farm in case the rain makes pathways a bit muddy.
You don't have to go to Holland to see world-class tulip displays. Year-round activities can be found at the Wooden Shoe Tulip Farm in Woodburn, Oregon, including 5k races, dining, flower sales. When you go, stay at the Best Western Woodburn for local accommodations and well-appointed rooms.